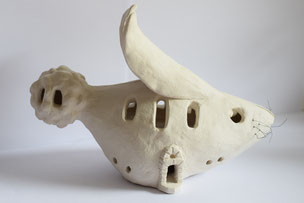 On the 1st of July my work "Ark of Play" will be exhibited in the Lwl Museum, Münster as part of "Mein Stück Frieden" (My piece of Peace). It will be located on the 1st floor of the Museum. 
Name of work "Ark of Play"
Made in Gievenbeck, Münster in September 2017
For me, peace represents a goal or aspiration. I believe that peace is hard to achieve in totality and therefore we must understand that it will not always be present. We must instead devise ways of finding refuge and each person work to maintain peace in their own lives.
"Ark of play" is the first of its kind in ceramic form and a continuation of a printmaking series I have been exploring since 2010. It represents refuge. As indicated by the name, it is a safe place to play. It came from an amalgamation of meanings; symbols in my childhood psychological landscape, the "children's war" in Syria, my gender and my Irish heritage and context to name but a few. 
The concept of Ark of Play originated in 2010 when I created the first print of a piece called the "Housey Horsey" during my third year in Limerick College of Art and Design in Ireland. It won the Charles Harper RHA LCAD Drawing Award in the same year.
It depicts a precarious Trojan horse like structure with long legs and a back wheel. It was an impossible picture; in 2D I had the freedom to create something that did not adhere to normal forces of gravity or sense. It represented a symbolic place of refuge and escape. The concept came from a bisociation between the Irish recession and consequent largescale slaughter of Irish horses which were superfluous remnants of the Celtic Tiger.
The college in which I studied was also until 1994, a Magdeline Launderies and before it's opening in the early 2000's, over 550 women's bodies were exhumed from the grounds. As a female artist, this context shaped my work. Refuge became more important to me as I was reminded of its absence.
Before creating this piece, the Sculpture Projects were taking place in the city and I was also working in the Picasso Museum where I was framing and handling Picasso, Matisse and Chagal works. I was very inspired and influenced by what I experienced.
This piece naturally expresses a female perspective. It represents a symbolic space or vessel for potential life. 
Throughout history, women were viewed externally by the male eye. Today artists like me are able to express their viewpoint from an internal perspective. This is still a relatively new perspective to be shown.
Here is a story from my childhood relating to "Ark of Play"
As a child I grew up in the rural west of Ireland on an isolated farm. In Ireland, the summer holidays are two months long and to stave off boredom, I played with my older brother Colm in the sandpit.
We created sand houses, rooms, gardens until we had a little town with various toys being the citizens. We spent many hours per day playing. One day our younger brother Patrick came and asked to play. To us he was too young, we told him no and told him to go. His little 5 year old face contorted in anger and he started attacking our creation. We screamed, there was nothing we could do. We chased him away and looked at the devastation. 
I remember the intense feeling of loss of certain features and places I had made. We attempted to rebuild what we had done before but we couldn't replicate it. We made new features, rooms and bridges. After a while I realized that it was better than before. We used pieces of wood and leaves found around the farm. We became more inventive. I grew to love the new sandtown, the previous a distant memory. 
But alas, Patrick was still not allowed to play and he was still angry. He came again one day and destroyed our work. We chased him in anger and he ran to our Mum who could not do anything, it couldn't be undone. We started cleaning up and started rebuilding. I mourned what I had lost but I also knew now that I would make something new and better. The process repeated. We were the pintsized god and goddess of sandtown.
The conflict progressed throughout the summer, sometimes we would come eagerly in the morning to continue our work only to find devastation. Patrick was insistent in his inclusion. 
Eventually tired of rebuilding we included him in our play, our youngest brother Joe joined soon after. Our sand town soon developed into a sand city. Our little brothers brought with them their own ideas and the city became far more interesting than before. We cooperated together, each occupying our own industry and trading to each other. 
We eventually abandoned the old plot and moved to the middle of the horse ring which had more prospects. We spent hours working together, sometimes the horses were exercised meditatively around us. We erected barrels and poles around the city to protect from wandering horses hooves and set the boundary. Peace had been achieved.