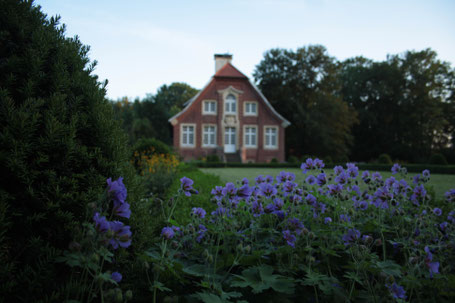 I am an Irish artist based in Münster, Germany. In my art practice I create drawings, prints and ceramics. In terms of genres, I make cultural art, equine art and conceptual art. The cultural art I make is created like many other artists: around important places of heritage. I am currently creating a body of work around House Rüschhaus and the Hülshoff Watercastle. These places provide me unlimited sources of inspiration, images and a place to relax. Indeed I have been photographing these heritage sites for the last 4 years; documenting the seasons, animals, plants and my memories of the places. I think it's safe to say that I will be documenting these, as well as, other sites around Münster for the rest of my life, so is their captivation over me. 
When I visit somewhere to document it, I always photograph, then sketch the surroundings. I then go to my atelier and use my images to sketch plans for lino and drypoint prints. I work with line, colour and composition in my art whilst trying to capture the spirit of the place I am interpreting. I also do watercolour sketches en plein air. Those sketches, I find, are the truest I have painted.
In my work I like to create a sense of order, organization and with many layers or factors in the image. This is created by having different layers of drypoint with each a different colour building on the previous. Or I create a lino cut, then print the lined plate in black numerous times. Using watercolour and later oil paint for more concrete finished images, I add colour and detail according to the season or time of day to each image. I am always amazed by how multifaceted one scene can be interpreted. 
Often I visit House Rüschhaus and the Hülshoff Watercastle and every time I see something new. I watch the leaves appear on the trees more and more. Or I watch when the summer brings beautiful and varied skyies, clouds, animals and various flowers wilt or pop up from the ground when their time of year comes. I see the colours of Autumn and the bare branches of winter. I cannot go back to Annette's time but I do see a lot of the nature that she saw and what inspired so much of her work.